Welcome
Our new organizational branding is inspired by our traditions.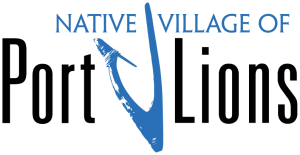 Located in Settlers Cove, 19 air miles west of Kodiak, the Native Village of Port Lions is home to about 200 residents. Our community is one that incorporates the traditional Alaska Native way of life along with innovations of the 21st century, a community where everyone is respected and neighbors help neighbors.
Fisheries sustained the village for hundreds of years, providing food, cultural characteristics and tools for the people. The new organizational brand for the Native Village of Port Lions integrates ocean-coast colors of a blue fish-hook icon representing the harvest from the sea and gray background representing the often-cloudy skies and rocky shores. The Native Village of Port Lions selected the traditional, handmade fish hook to represent both the long history of Port Lions' ancient culture and the role of the modern tribal organization providing for its people.